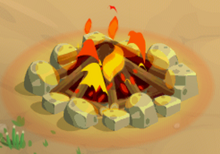 Fire is an essential need for your Villagers. An unlit fire will result in all of your villagers immediately wanting fire.
There is no Skill that will decrease the lighting time for a Fire (although this is only 6 seconds anyway).
When you unlock each village, there will already be a Flint Fire present, which will warm and protect up to 10 villagers. Once you exceed this limit, you will need to upgrade your fire.
Fires
Oil
Oil is a purchasable resource useful for extending the burn time of Fires. Each application extends a Fire's burn time by 12 hours. The size of application depends upon the type of fire.
Using Oil
If you wish to extend the life of your lit fire, you can tap/click on it and select the "Add 12 hours" button. If you have enough oil in stock, 12 hours will be added to the timer and your fire will begin to burn pink.
Purchasing Oil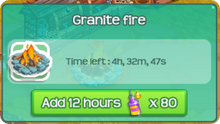 If you do not have enough oil when you attempt to add it to the Fire, you will be presented with the option to buy more.
| Pack size | Cost (gems) |
| --- | --- |
| 10 | 10 |
| 50 | 45 |
| 200 | 150 |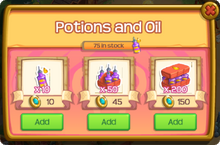 Inheritance
5 Oil canisters are acquired as part of an inheritance when a villager undertakes the Final journey.
Trivia
In the old-style gameplay, it was possible to use two fires to warm your villagers as a stopgap while you were waiting for a fire to unlock. However, when the unlock keys were done away with and replaced with gems, this loophole was closed.
Lighting a fire is one of the tasks required for the Village Builder Achievement.
Ad blocker interference detected!
Wikia is a free-to-use site that makes money from advertising. We have a modified experience for viewers using ad blockers

Wikia is not accessible if you've made further modifications. Remove the custom ad blocker rule(s) and the page will load as expected.